Do you care about the fuel efficiency of your two-wheeler? This is not weird, in fact, it is one of the most important factors that each one of us looks at! Easy drive, easy handle capability is another feature of significance. The best mileage second hand scooty in India is curated from the online search data for more than 50 lakh users across the country.
Considering the notable factors like engine power, the cost of maintenance will make the best choices. Often in the plethora of scooty collections if you get confused, then you are not the only one! We all do. Here to make your selection smooth we have brought the top 3 second-hand scooters to ease your selection process.
Top 3 Second hand Scooty
1: TVS SCOOTY PEP+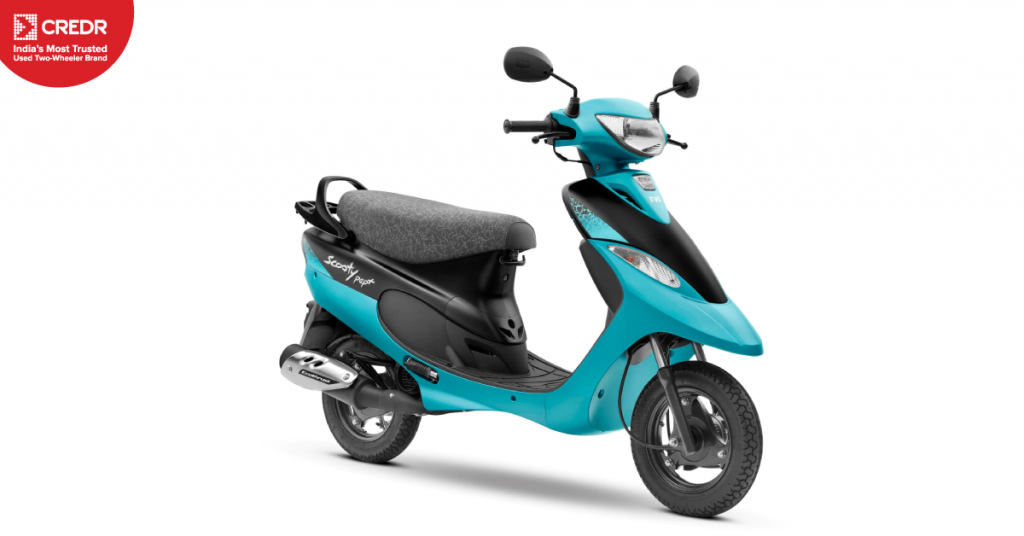 (Mileage 65kmpl)
The TVS Scooty Pep Plus is the best mileage scooty in India. It is extremely lightweight in frame and body panels. It helps to extract the maximum performance from the 87.8cc engine of the scooty. It was launched in 2005 with 99 variant colours. The small motor of the scooty produces 5.43PS of power and 6.5Nm of torque. This scooty weighs around 93kgs. Low seat height is designed for this scooty to make it easily accessible to all, especially women.
This Scooty Pep Plus has a 10-inch alloy for easy reach to the ground. This is one of the unique features to make it one of the first choices among the lady riders. The price of the used TVS Scooty Pep+ is ranging from 20, 000 onwards on the CredR website.
TVS Scooty Pep Plus Engine
Engine: 87.8cc
Power: 5.43PS at 6500rpm
Torque: 6.5Nm at 3500rpm
Mileage: 65kmpl
Petrol tank Capacity: 4.2 liters
The TVS Scooty Pep+ is available in 7 top colours which include Coral Matte, Frosted Black, Aqua Matte, Revving Red, Nero Blue, Princess Pink, and Glittery Gold.
2: HONDA ACTIVA 6G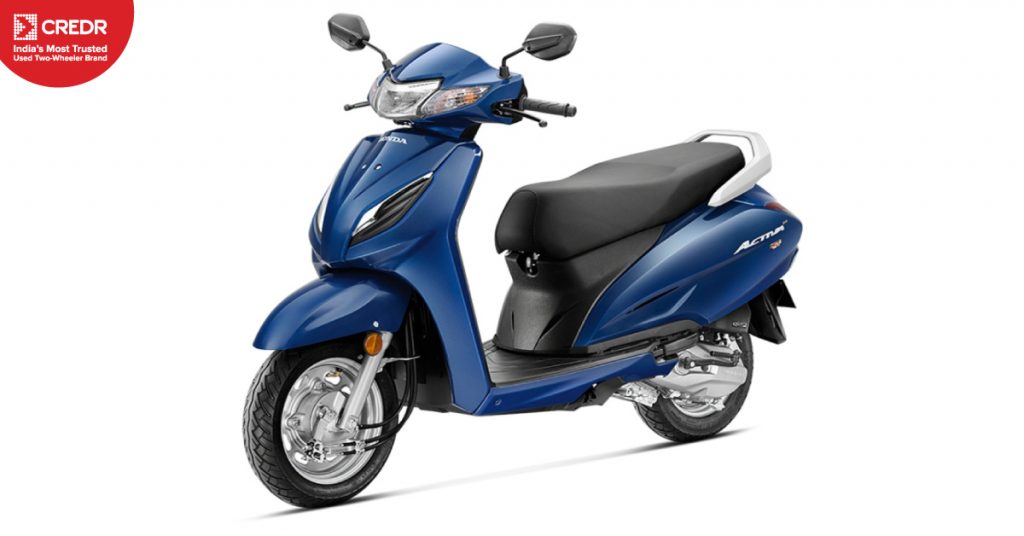 (Mileage: 60 kmpl)
With a base trim, sleek and the winning combination of a completely new engine platform is only available at Honda's globally acclimated eSP technology. It is ideal for daily commuting with 10% increased mileage features. Honda Activa 6G has adjustable suspension where now can be easily customized with the comfort of a 3-step adjustable rear suspension. The feature of the double lid external fuel fill, auto-start, stop switch button, enhanced smart Tumble technology ™ all make it smooth functioning anywhere, anytime for the utmost convenience.
The design of Honda Activa 6G is made so fuel-efficient, looks much more comfortable, and improved to the Activa 5G version. The used Honda Activa 6G available at CredR ranges from 20, 000 onwards.
Honda Activa 6G Engine
Engine: 109.51cc
Power: 5.73kW at 8000rpm
Torque: 8.79Nm at 5250rpm
Mileage: 60kmpl
Petrol Tank Capacity: 5.3litres
There are vibrant 6 colors options including- Dazzle yellow metallic, Matte Axis Grey Metallic, Glitter blue Metallic, Pearl Spartan Red, and Pearl Precious White.
3: YAMAHA FASCINO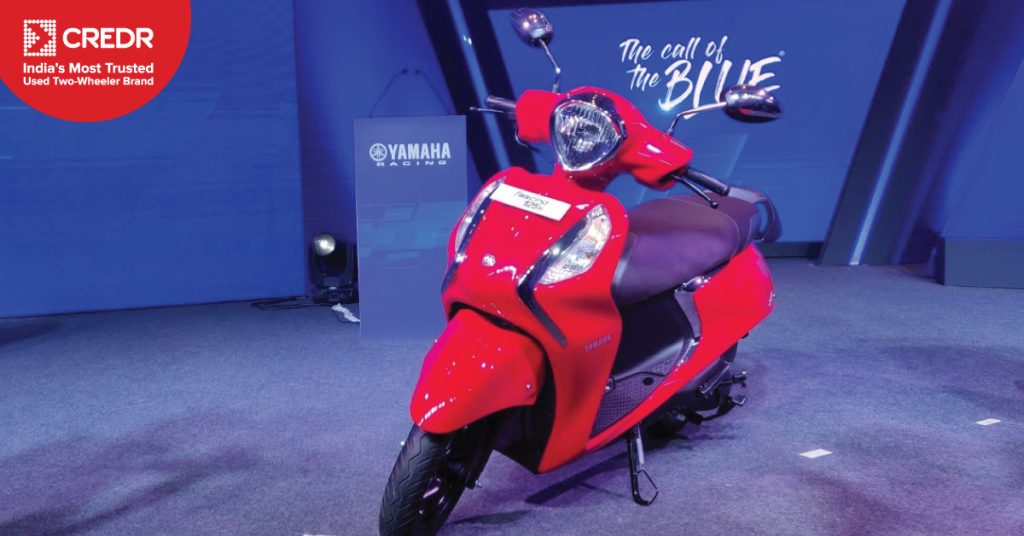 (Mileage: 58 Kmpl)
This retro fashioned Yamaha Fascino is an ideal choice among young customers. The amazing stylish look, unique appearance, and sleek design make it visually attractive. It has classic European styling with notable features and technologies with the all-new exterior design, headlight, new gauges, the high-quality body works all are exceptional. It is powered by BS-VI complaint, air-cooled, fuel-injected (Fi), and 125 ccs blue core engine which offers an output of 30% fuel economy with 16% or higher compared to the other 113cc scooters. It is much lighter in weight around 99kgs much lighter compared to other Yamaha Bikes.
The telescopic suspension and unique Start and Stop system prevent the engine from idling at the start with a single throttle twist that is used by the sensors to access the riding environment. There is no separate conventional electric starter to it. The best part is there is service required for the MF battery- charging is quite faster. The used Yamaha Fascino available at the credR website starts from Rs. 30,000 and onwards.
Yamaha Fascino Engine
Engine: 125cc
Power: 8.2ps
Torque: 9.7Nm
Mileage: 58 Kmpl
Petrol Tank Capacity: 5.2 Litres
There are an amazing 8 colours of Yamaha Fascino made available which comprises Metallic Black, Sauva Copper, Cyan Blue, Dark Matt Blue, Vivid Red, Yellow Cocktail, Dark Matt Blue, and Matte Blue.
To conclude, investing in a second-hand scooty is a great idea, you know why? It saves you time and money. Instead of buying a new scooter, you'll get your preferable brand from a convenient location at CredR. We believe in offering quality service and premium second-hand two-wheelers to make your life hassle-free. Explore our extravagant collection of scooters today!